Straumann ® Dental Implants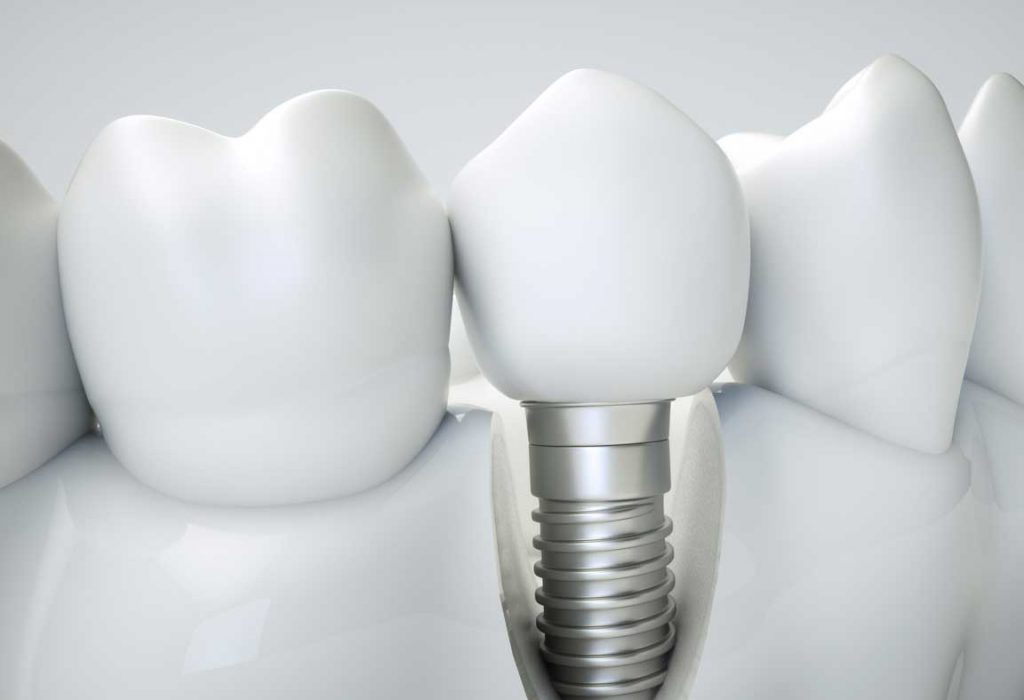 At Olsen's Dental we offer a FREE Dental Implant consultation. Dr Olsen will discuss your treatment and advise you with the best treatment options. Be aware that not every patient is suitable for a dental implant. At Olsen's, we feel that you should be given all the necessary information and have a chance to ask questions, before committing to any treatment. We are here to help you, and answer your queries.
To find out more or book your appointment:
WHAT ARE DENTAL IMPLANTS?
A dental implant is a small part made of titanium or titanium zirconium which is placed in a jaw bone in place of the missing natural tooth root. The implant can be surgically inserted under local anesthetic on an outpatient basis. Titanium is generally well tolerated by the human body, and bone has been shown to bond well to titanium. Once healed, the artificial root acts as a base for fixing individual crowns and multi-tooth bridges. The implant can also be used as an anchor to an entire dental prosthesis.
Here are five good reasons for choosing dental implants:
AN AESTHETIC SOLUTION
Function and visual appearance go hand in hand: dental implants were developed to offer reliable stability, plus the solution of implants looks natural.
BONE PRESERVATION
Implants transmit chewing forces to the jaw, which helps to maintain the bone. If there is no implant, as with conventional bridges or partial prostheses, the bone may slowly recede and the shape of the face may change over time.
MORE TO ENJOY
The dental plates often required with conventional dentures may case pressure points and other inconveniences. With dental implant therapy, such dental plates are not necessary. Therefore, patients may experience more comfort when talking, smiling and eating.
TOOTH PRESERVATION
With a conventional bridge, the healthy neighbouring teeth to the right and left of the missing tooth have to be ground down to support the bridge. When using an implant to close the gap, the neighbouring teeth are not affected and the natural surface remains intact.
PROVEN QUALITY
Straumann® dental implants are made in Switzerland and sold over four million times worldwide. The Straumann® Dental Implant System is one of the most frequently used systems in the world and is the result of more than 30 years of scientific experience. The Straumann® Dental Implant System is designed for long-lasting and esthetic tooth replacement solutions, providing user-friendly solutions to improve the standard of patient care.
FAQs
Are Implants safe and how long will they last?
Implants are well-established tried-and-tested treatment. Over 95% of modern implants should last many years with the right care.
I have some of my own teeth. Can I still have implants?
Yes. You can have any number – from one single tooth to complete set.
Can Implants always be used to replace missing teeth?
It depends on the condition of the bone in your jaw. Dr Olsen will arrange for a number of special tests to find out the amount of bone still there. If there is not enough, or if it isn't healthy enough,
it may not be possible to place implants without grafting bone into the area first.
Do implants hurt?
Placing the implants means a small operation. This can be done using simple local anesthetic. You will not feel any pain at the time, but you may feel some discomfort during the week after the surgery.
This is usually due to having stitches, and the normal healing process.
How long does treatment take?
Dr. Olsen will be able to give you a rough idea before the treatment starts. Usually the permanent teeth are fitted 3-6 months after the implants are put in.
What about after care?
Dr. Olsen may give you some pain relief after the surgery, or check whether you have them at home to take over the next few days if you need them. She may also prescribe antibiotics.
Don't smoke, exercise or drive for the rest of the day. Don't rinse the area and only eat soft food. However,
it is important that you keep you mouth clean by brushing – but do not poke the implant site. You can use a chlorhexidine mouthwash every day during the first week after surgery.
Are the teeth difficult to clean?
No. After care it is important if you are going to have a long-lasting, successful implant. Dr Olsen will give you detailed advice on how to look after your implants.
Cleaning around the teeth attached to the implant is no more difficult than cleaning natural teeth.
However, there may be areas that are difficult to reach and you'll be shown methods to help you.
If I had gum disease when I had my own teeth, will I get it with teeth attached to the implants?
Yes, if you don't care for them well enough. If you keep them clean, and don't smoke, then you should not have any problems.
What happens if the implant does not bond with the bone?
This happens very rarely. If the implant becomes loose during the healing period or just after, then it is easily removed and healing takes place in the normal way.
Once the jaw has healed, another implant can be placed there. Or, the dentist can make a bridge, using the implanted false teeth that have 'taken'.